The Diaries and Letters of a Young Man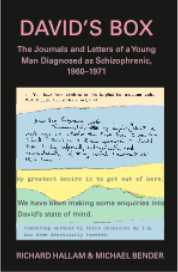 Diagnosed as Schizophrenic, 1960-1971
Richard Hallam and Michael Bender
Polpresa Press, July, 2011
ISBN 978-0-9560975-1-4
Paperback, pp. 268.
R.R.P. £15.99 (£12.95, discounted price for on-line orders).
These journals of a highly intelligent young man document in painstaking detail what it was like to be diagnosed with schizophrenia in the 1960s – the dehumanising attitudes, the inept prescription of drugs, the obvious shortcomings of mental health services. "David" eventually manages to sustain an unskilled job and move into a bedsitter but is now faced with goading from his fellow workers and social isolation. Giving up the job he hates and faced with a return to living in a half-way house, he calmly tells us why he made his final decision.
These diaries and letters give an insight into the experience of madness that no textbook or retrospective account could supply. David was a fly on his own wall, attempting all along to make sense of his life, but barely succeeding. His perceptive observations inform us of the dilemmas that continue to challenge mental health professionals and 'service users' today. In a final summing up, the authors evaluate what progress has been made since 1970.
In her foreword, Jacqui Dillon, Chair of the National Hearing Voices Network, England, introduces David's Box as an account of survival in adversity.
> Read Extracts in The Guardian
Advance Reviews
…a graphic and moving account… an excellent complement to the library of professional, student, or lay person interested in understanding the challenges faced in providing adequate and effective care for the seriously mentally ill." Glenn D. Shean, Ph.D, Professor of Psychology, College of William & Mary, Virginia.
…a fascinating insight into the nature of schizophrenia or psychosis, the mental hospital system of the 1960s and the terrible toll that this condition can have on individuals and families… his difficulties with his family are all conveyed, movingly, through his own words." Joanna Moncrieff, MD, Senior Lecturer in Social and Community Psychiatry, University College London.
…these skillfully edited diaries show yet again how much is to be learned from listening to people's own accounts of 'madness'… their tragic end raises the question of how much has changed… not nearly enough." Mary Boyle, PhD, Emeritus Professor of Clinical Psychology, University of East London.